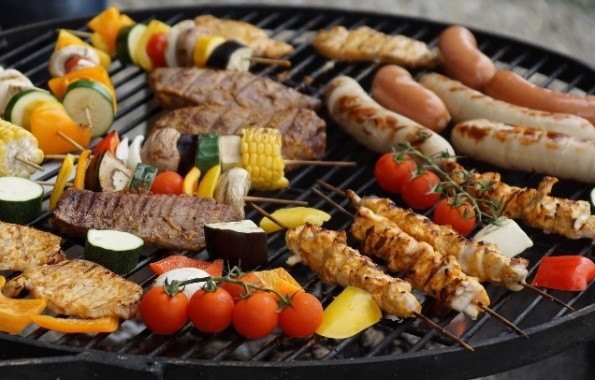 With the warm weather here to stay for a while, the amount of time you spend outdoors is likely to increase as you indulge in summer favorites like nights on the porch, walks after dark and dinner on the grill. Before you start using the grill for the season, it is important to take some precautions and prepare your grill for the season. Take an afternoon to get the grill ready before you plan to use it. Gas grills
Gas Grills
With any gas appliance, there are components which deteriorate over time and this can easily happen during the colder months when the grill isn't in use. Time in storage is still time; even if a grill is not exposed to the elements, time itself may cause damage to critical components. Whether your gas grill is brand new or not, take the time to check it is working properly before firing it up for the season. For gas grill hoses, easy to do soap and water checks for leaks could avoid a serious accident. Make sure to check connectors and tighten if loose. If a leak is detected, do not use the appliance until it has been serviced by a professional. If a lingering odor of gas is noted, notify the fire department and avoid close proximity to the grill. If you suspect an issue, it may be cheaper to replace the grill than to have it fixed depending on the age and complexity of the grill.
Charcoal grills
Charcoal grills offer safety issues just like gas grills. It is important to use proper caution and only use elements that are intended for grilling. Never use general lighter fluid, only use charcoal lighter fluid and it is important that you never add lighter fluid to an already burning fire.
Make sure you are aware of your surroundings when you are grilling. You should never use a grill in an enclosed space, close to the house or under a covered area. It is important to remember that a grill uses an open flame and any fire can present danger. Make sure anyone around you when you are grilling, and especially children, are aware of the dangers of fire and know the grill will be hot even long after you are finished cooking on it.
Purchasing special utensils that are made for grilling is also a good idea as they frequently have longer handles and are made of metal or other materials that are resistant to the higher temperatures common with grilling. Make sure you are cautious and attentive at all times when using grills of any type to ensure your family and home are safe all summer long. For additional ideas for outdoor entertaining or home maintenance, feel free to contact me today for a consultation. I will be happy to answer any questions you may have, help you to find a new home or determine the value of your existing property.
Teresa Dennison
Certified Negotiation Expert(CNE®)
Long & Foster Real Estate Inc.
Annapolis Fine Homes Office
145 Main Street | Annapolis, MD 21401
Cell: 443.223.1364
Office: 410.263.3400
eFax: 1.866.214.8475
TDennison@LNF.com
www.GoAnnapolis.com

Image by suju from Pixabay